I have invited several of my writing colleagues to share an essay in answer to this prompt: "What lingers in your memory about a specific place, perhaps a recent vacation or a place you've lived? How did this place, or your travels, influence your creative process?" Author Susan M. Latta expresses so well the sense of place many Midwesterners feel for their cabins.
About five years ago, we purchased a 1947 cabin. Surrounded by ghostly birch trees, sturdy maples, and towering eastern white pines, the cabin is perched on a bluff overlooking Ossawinnamakee Lake. Bald eagles swoop overhead and cause crazy warning calls from the loons floating in the bay. Our first summer, a tiny black bear cub scuttled up the maple near the deck. He heard us exclaim and darted away. We never saw his mama, but we knew she was close by, watching.
Inside, the wood paneled cabin holds three teeny tiny bedrooms, a one-person kitchen, and a gathering spot just big enough for a sofa and stone fireplace.
As I sat at the table that first breakfast, I noticed the milk in my cereal bowl tilting toward the lake. The table must be uneven, I thought, and peeked underneath it. No, it seemed sturdy. And then I realized it wasn't the table but the cabin itself. With a slight sense of vertigo, we spent the next few summers pouring a new foundation. The building is now level yet I often catch myself leaning toward the water.
The cabin faces east and if you want to see the sunrise, you can either watch it outside from the deck or look through the cracks in the wall from the inside. Yes, the light shines right through the wall. A toasty fireplace is no match for the uninvited November winds.
Eventually we built a new cabin next door. But the little green cabin, now reserved for the summer, is still here, and still loved. Whether or not I am writing about the north woods, the loony calls, or the clear water, the little green cabin (or the new cabin with a dishwasher and real heat) is where I will come.
__________________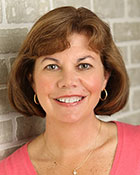 Susan Latta holds an MFA in writing for children and young adults from Hamline University. She is the author of Bold Women of Medicine: 21 Stories of Astounding Discoveries, Daring Surgeries, and Healing Breakthroughs, Chicago Review Press, 2017. She has written on history, biography, and geography topics for Appleseeds and Faces magazines and contributed freelance projects to Heinemann Leveled Books and ABDO Publishing. She is the recipient of the Loft Literary Center's Shabo Award for Children's Picture Book Writers. She lives in Edina, Minnesota, with her husband and two golden retrievers, Stan and Hobbes.Website: susanlatta.com Twitter: @lattasusan
.