I have invited several of my writing colleagues to share an essay in answer to this prompt: "What lingers in your memory about a specific place, perhaps a recent vacation or a place you've lived? How did this place, or your travels, influence your creative process?" Nonfiction author Mary Losure paints a true-to-life scene with her words.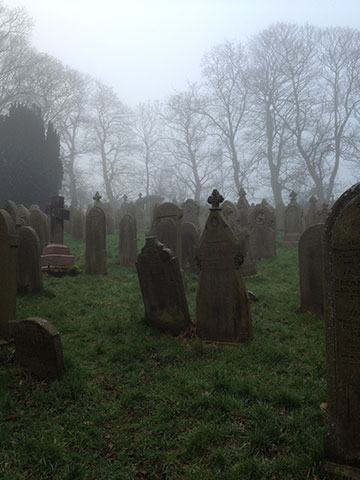 Imagine a graveyard at the top of a hill. A path leads through the tombstones to a stone house. Go up the steps and let yourself in the front door. Climb the stairs. The hall at the top opens on a small, book-filled room. Outside the window looms a dark stone church. Imagine, now, that beneath the church lies a vault where the mother (and two older sisters) of four young children are buried.
This scene is real, though.
In this small room, Charlotte, Branwell, Emily, and Anne Brontë would gather to read to each other, knowing that just outside their door were the buried coffins of their mother and sisters. In this room, the four children began inventing a country where if someone died, four powerful genies could bring them back to life. It was a secret world, known only to them. They wrote about it in tiny books, in print too small for grownup eyes.
I've been to the stone house, now called the Brontë Parsonage Museum. I've walked through the tombstones, gazed at the entrance to the vault. I've hiked the wild moorlands that lie just behind the parsonage. And although I don't believe in ghosts, at night the village seemed haunted.
Now, the scenes are in my mind as I work to recreate this lost-but-once-real scene in a book I'm writing about Charlotte. It's what I like best about being an author of non-fiction. You can read about a real place, you can imagine how it must look, you can find out everything you can about it. And then—you can go see it, in real life. If you're lucky, you can discover things you never knew before about the story unfolding in your mind.
Things you could never have imagined.
__________________
Mary Losure searches the past for true stories with real children as the heroes. If she could be granted one wish, it would be to find a time machine in the basement of her house in Saint, Paul, Minnesota. Visit her website, marylosure.com.