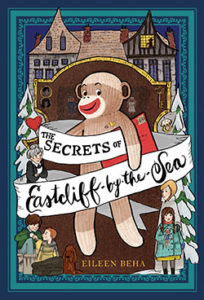 People often ask me if I am a part of the illustration process for my books. That's not typical. Authors and illustrators usually don't talk to each other until the book is done. Sometimes there are details in the writing that must be translated into an illustration. What did the author have in mind? Here's an exchange I had with Lauren Rille, Associate Art Director at Simon & Schuster, on behalf of Sarah Jane Wright, the illustrator: (This email exchange was edited to remove non-functioning links.)
_______________________________
18 March 2014
Hi Eileen!
How are you? I hope this finds you well! I had a quick question from the illustrator that I wanted to run past you—she's just working on Miss Chickadee's look and posed this query:
"Miss Chickadee Finch wore a sleek, silver-gray tuxedo 
with feathered coat tails. Tied over her white shirt was
a small black bib. Her black cap sported a pointy brim. The
cap extended just over her nose, making her eyes appear
dark and beady"
I envisioned this kind of hat….yes? [link to a now-defunct website referring to a bowler hat]
Can you let me know if that looks right? And if not, can you send some reference for what you picture?
Thanks Eileen!
Best, Lauren
_______________________________
18 Mar 2014
Hi Lauren,
I was able to google the 10/29/13 article about hats in the Bangor Daily News, but I didn't have a bowler hat in mind, if that's what you're asking.
What I did envision was more like a "tilt hat" popular  in the 1940's — a hat, that when drawn down over the eyes, almost resembles a bird's beak.
On the website [Village Hattery, since defunct] there's a "1940's Black Felt Tilt with Purple Plume" in the "hats with feathers" section that is most like the shape of the hat that I pictured — or, the one in the photo next to it, with the light blue plume. (Miss Chickadee Finch's tilt hat could also be illustrated with a small plume, if Sarah Jane prefers.)
I hope this is helpful. If not, let me know, and I'll keep looking.
Thanks for asking!
Eileen
_______________________________
Here's an article from Vintage Dancer about vintage hats from the 1940s, the time during which The Secrets of Eastcliff-by-the-Sea is set. There were many hats with many different names! 
Which hat in the article do you feel resembles the hat Sarah Jane Wright drew on page 199 of the hardcover of my book?
This is just one of the details an author researches for a fiction book. We want the details to be as accurate as possible.
While authors aren't typically a part of the illustration process, art directors and editors are good about checking what was intended. I'm so glad!