Early on the morning of Friday, January 29, 2015—a bitterly cold, snowless and windy day in Minneapolis—I sat at my kitchen table and signed multiple copies of my two published novels for middle-grade readers: Tango: The Tale of an Island Dog and The Secrets of Eastcliff-by-the-Sea. I packed the books in boxes, put the boxes in the trunk of my car, and drove downtown to the Hennepin County Medical Center (HCMC).
The next three hours, which I spent with Sneha Saxena, Development Officer, and Lisa Miller, Senior Development Officer, of the HCMC Hennepin Health Foundation; and Lynne Burke, Department of Pediatrics Children's Literacy Liaison, proved to be one of the most personally gratifying experiences of the past year—a year in which I've been plagued by multiple health issues related to Chronic Fatigue Immune Dysfunction Syndrome. After struggling with the hidden symptoms of this "invisible" disease for more than 20 years, trust me when I say, "Sometimes reading is the best medicine." (Creative writing helps as well.)
Sneha, Lisa and Lynne, along with members of HCMC's pediatric staff, gave generously of their time and talents as they shared with me the mission and values of the Children's Literacy Programs and Projects. Simply stated, the programs connect children with books because literacy experiences are critical to a child's healthy development. While the primary focus is on their patients and child visitors, members of their team also work in the community to bring kids and books together.
During my visit, I learned that 30,000 books are given away at HCMC and its clinics every year. The total number of books distributed to children since the program's inception (2002) is 200,000!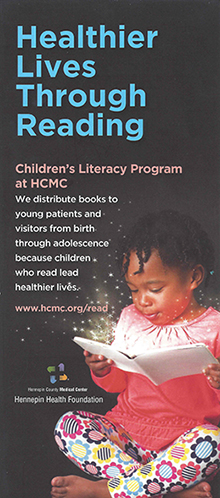 The three major program components are:
~ Books for Babies in the nursery
~ Reach Out and Read in early childhood
~ Book Buddies for all ages.
Many of the books are multi-lingual: English, Spanish, Somali, Hmong, Oromo, French, and Russian. HCMC's Children's Literacy Program seems to be a perfect example of why we need diverse books, why every story matters, and how stories connect us.
How did I find out about the program? Through a friend named Jean who coordinates a "knitting ministry" for HCMC patients. Among the items her church group donates are baby hats for newborns and oversized mittens for the bandaged hands of burn victims. When I told Jean that I'd always hoped to put my books into the hands of children in need of healing, Jean gave me Sneha Saxena's email address. Within an hour of receiving my email, Sneha responded with a personal phone call to my home. Our connection was made.
I share this experience on-line because I know that there are so many people—children's and young adult book authors, booksellers, librarians, teachers, parents, grandparents, book lovers of all kinds—who know from first-hand experience that children who read lead healthier lives.
If you, or someone you know, might be interested in becoming involved with the HCMC Children's Literacy Program, learn more at: www.hcmc.org/read. And, if you would like to help the program meet its goal of giving away their 250,000th book sometime in 2015, contact Sneha Saxena: sneha.saxena@hcmed.org or Lynne Burke: lynne.burke@hcmed.org.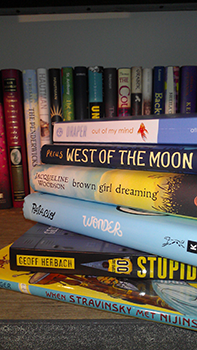 Or, if you live in the Twin Cities area and would like to add some of your favorite, new, non-religious children's and young adult books to those that I'll be donating on April 17th, send me an email: eileenbeha@tango.com. I'll make arrangements to either pick up the books or I'll give you my home address in south Minneapolis, where you can drop your books in a covered plastic bin that I'll leave next to my front door. (If you want a tax donation receipt, it's best to make your book or financial donation directly.)
These days, as I read my way through a stack of high-quality books for young readers, I like to visualize a particular book in the hands of a hospitalized or chronically ill child. Then I add the title to my list of books I plan to donate in the future, feeling just a little bit more like my younger and healthier self.
"The right book at the right time impacts many lives."
~ Lynne Burke, HCMC Children's Literature Liaison