Grace C., in second grade, wrote a letter to ask these thoughtful questions:
Q: What makes you want to write/what inspires you?
I wanted to learn how to write because I have always loved to read. I wanted to discover for myself what combination of talent and craft and imagination authors used to create a work of fiction, both for children and adults. By the time I graduated from Hamline University with an MFA (Master of Fine Arts) degree in 2007 at the age of 58, I had learned that writing requires a monstrous amount of time and discipline; and, since I'm often motivated by setting a personal goal for myself, over time I found myself inspired by a spirit of accomplishment as I first formed a good sentence, then a good paragraph, then a good scene, then a good chapter. Finally, I love "playing" with language the way my grandsons love to play with LEGOS: a thousand combinations of interesting ways to create something, and, in my case, a story about a little dog in a lobster trap who washes up on the shore of Prince Edward Island.
Q: What do you do when you are 'stuck' and can't think of what to write next?
I usually do one of three things when I'm 'stuck' and can't think of what to write next. First, I ask myself, "What happens next?" I write out something—anything—that pops into my mind, knowing that I can always delete the paragraph or scene later. In this way, I keep myself moving forward and don't give up. Or, I ask myself, "What if … ?" and try to come up with three or more possible ways I could write a scene, even if it seems outlandish. I usually free-write these ideas by hand to see if a new plot twist might develop. Sometimes, I surprise myself. Or, I might write the same scene from a different character's point of view, exploring whether a secondary character might point me in a new direction.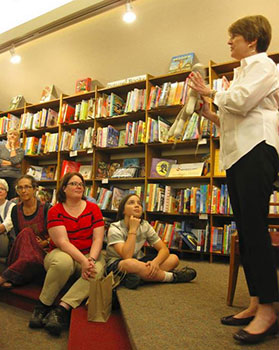 Q: How do you celebrate when you finish a book?
Neither of my published novels for children were really "finished" until the day the hardcover book was released to bookstores for sale. This is called a 'pub date'. After I finish a manuscript and my agent has sold my story to a publishing house, I may have to revise the book 4 or 5 times before my editor approves the final copy. I celebrated the release of both of my books with a "book launch" at Red Balloon Bookshop in St. Paul, Minnesota, where I read aloud from the book and signed copies for my friends and family. After the events at Red Balloon, I invited everyone to a party.
Thank you, Grace, for asking such great questions. They were fun questions to answer.