I have invited several of my writing colleagues to share an essay in answer to this prompt: What lingers in your memory about a specific place, perhaps a recent vacation or a place you've lived? How did this place, or your travels, influence your creative process? Here is the first of these essays, written by author Aimée Bissonette.
In late September, I spent a week up north at an artists' retreat called Tofte Lake Center. Nature has always been my escape. Long walks, leaves crunching underfoot, binoculars around my neck—that's the way I manage to put the world behind me, to free my mind from its constant whirring so I can focus on writing.
At TLC, I had my own cabin with beautiful fall colors all around me, and my days were completely my own. Every day, I wrote, walked, and wrote some more.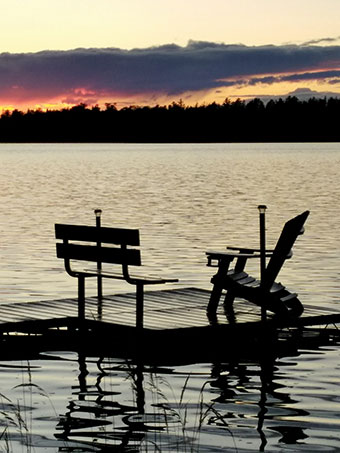 I sat in quiet places, watched for birds, listened to the chatter of red squirrels, and breathed in the woods' pine scent. 
I discovered otters, a beaver, loons, and a bald eagle. 
I fell asleep to the sound of wind in the trees.
One afternoon, while out for a walk, I met a man who was returning from several days of solo camping. He was pulling his boat out of the water and loading gear into his truck.
As we talked, I learned he was a fisherman, a school teacher, and a grandfather. He told me how much he loved the north woods. And then he showed me his prize souvenir from his trip: two large trash bags filled to the brim with dried, reddish pine needles he'd collected from the forest floor.
"There's nothing softer to sleep on," he said grinning. "I'm taking them home so my grandkids can see for themselves."
I thought about that man the rest of the week. I thought of those big bags of pine needles, nestled in the back of his truck among his duffle bags and fishing tackle, bumping along the road all the way to Indiana. He didn't want his time up north to end so he decided to take a bit of the north woods home with him. I understood that. I didn't want my time in the north woods to end either.
My last morning at TLC was rainy and cold. I was grumpy about leaving and the weather matched my mood. I wished I could toss TLC in the back of my car and take it home, just like those bags of pine needles. I couldn't.
But then, as I stood for the last time on the deck of my cabin, I realized I was taking a bit of TLC home with me. I had all my writing from that week. I had fresh, new ideas from my walks in the woods. And I had a renewed energy. Being in this beautiful place had done that for me.
So I got in the car and headed home—smiling finally—content in the thought that TLC and my beloved north woods were just a car ride away.
__________________

Aimée Bissonette lives and writes in Minnesota and Michigan's Upper Peninsula. She enjoys writing fiction and non-fiction, especially picture books. Learn more about her books at aimeebissonette.com