I have invited several of my writing colleagues to share an essay in answer to this prompt: "What lingers in your memory about a specific place, perhaps a recent vacation or a place you've lived? How did this place, or your travels, influence your creative process?" Writer Maggie Moris shares this essay.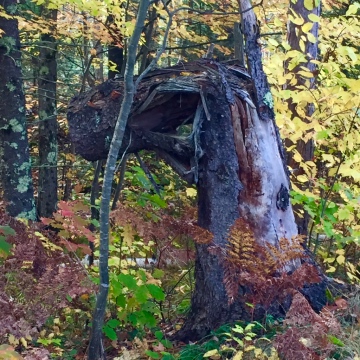 One blustery afternoon, several years ago, I set out to capture the muted colors of a cloudy day. Deep in the late autumn woods I came across an old stump, twisted and squat, dark and dying. The broken top bent over at a sharp angle above a diamond shaped hole. I circled around and took a photo as the kraa, kraa, kraa of an unseen raven beckoned overhead and a gusty breeze teased up the musty smell of leaf litter.
Only later, when I scanned through the day's images, did I see a horse peering back at me. For when I'd snapped the picture, I had only seen what I expected to see—the stubborn remains of a nearly dead tree. The experience was a good reminder to always look again and peer deeper at the natural world.
As a writer something similar happens when I first discover my story characters. I make assumptions about their true nature. To fully "see" them I have to ask many, many questions, but most especially: "What secret do you harbor?" and "What dream do you guard?"
The answers that I get from both heroes and villains offer unexpected glimpses into their complicated hearts. I might learn that my main character was once cruel or that my villain pursued a great passion, but failed. Often, I am taken aback and moved by what I find.
Just as I was on that day when I discovered the secret heart of a dying tree who once dreamed of being a mighty steed—strong enough to race a raven, swift enough to catch the wind.
__________________
Maggie Moris had the great good fortune to grow up in her own 100-acre woods in Lake Elmo, Minnesota, where protective oak trees and curious animals had as large a hand in her upbringing and formation as did her parents. She is currently working on the first book of a middle-grade fantasy series featuring a world of talking ravens: The Corvamoor Chronicles. She is represented by Jenny Bent of The Bent Agency.