In an early chapter of The Secrets of Eastcliff-by-the-Sea: The Story of Annaliese Easterling and Throckmorton, Her Simply Remarkable Sock Monkey, Throckmorton is reunited with his sock monkey cousin, Captain Eugene S. Monkey. Captain Eugene belongs to nine-year-old Annaliese's older brother Teddy.
Throckmorton immediately notices that Captain Eugene's limbs are badly stained in some places and completely worn thin in others. Throckmorton concludes, rightly so, that Teddy's sock monkey has been well-loved for a long, long time.
Later Captain Eugene reveals that the strong bond between Teddy and him is a secret. "Master Teddy keeps me well-hidden," he tells Throckmorton. "I think that he's afraid that Evan or Judge Easterling will tease him if they discover that's he's still so fond of me." Boy and sock monkey sleep together every night, but Captain Eugene often spends his days hanging upside down, bat-style, in the corner behind a world globe.
As the story continues, Captain Eugene is shown to possess knowledge of world geography as well as a seafarer's heart for adventure.
Accordingly, it seemed perfectly natural that I would invite Captain Eugene to accompany me and my husband on our recent trip to Sweden and Denmark.
Captain Eugene had a wonderful time indeed:
*  Enjoying the view of the North Sea atop a cliff on Marstrand Island in Sweden.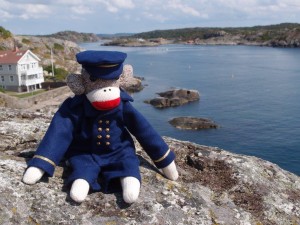 *  Listening to a story read by the beloved Swedish children's author Astrid Lindgren at Junibacken in Stockholm.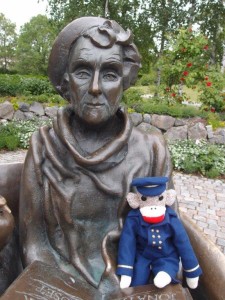 *  Shopping at the Arnold Busck children's bookstore in Copenhagen.
*  Mingling with tourists in Nyhavn, a 17th century waterfront district in Copenhagen.
*  Tucked in the arm of Hans Christian Andersen, world-renowned writer of fairy tales.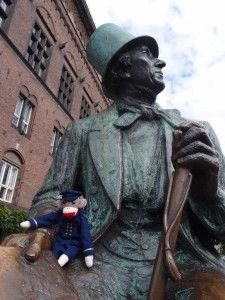 On the day we left for Sweden, the first review of The Secrets of Eastcliff-by-the-Sea was posted online by Kirkus Reviews. Much to my surprise and delight, the review was starred.
Suddenly I was struck by the realization that my new book – like Captain Eugene – is out in the world for the first time.
For more than six years, Annaliese and Throckmorton's story has been my well-kept secret. Once cherished, safe and hidden from view, soon critical readers would weigh in on the book's merit, or lack thereof, in print and across all forms of social media.
With a shudder I thought back to a time shortly after Tango: The Tale of an Island Dog was published. Within hours of a school visit, a young reader posted a review on the Barnes and Noble website. "EWWWWWWWWW!!!!!" the caption read. What followed was the reader's justification for giving Tango the lowest possible rating.
I was crushed. I swore that I'd never write another book. But, of course, I did. And along the way, I've developed a slightly thicker skin.
A star, I know, is fleeting. An unfavorable review of my new book may soon follow. The fear remains.
In a chapter titled "A Map of the Past," Mr. Throckmorton S. Monkey expresses a simple truth about his existence: "Every sock monkey fears the day when his or her keeper heads off into a wide, wide, wide world far beyond a sock monkey's imagination."
It's hard for me to imagine all the places that The Secrets of Eastcliff-by-the-Sea will travel or whose hands will open its cover and read its pages.
My secret is out.