Augusta and McKenna make enchanted candles for the tourists in Tango: The Tale of an Island Dog. Perhaps you'd like to make your own for the darkest night of the year, the Winter Solstice on December 21st. Here's a video tutorial on making your own pillar candles. Have fun!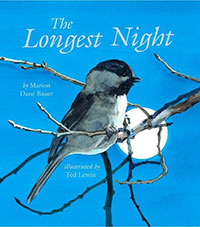 And here's another book for your solstice reading, The Longest Night, by Marion Dane Bauer and Ted Lewin. Isn't it stunning?
Wherever you are, I hope that Winter is good to you and your pile of books to be read is enticing.
Happy holidays!