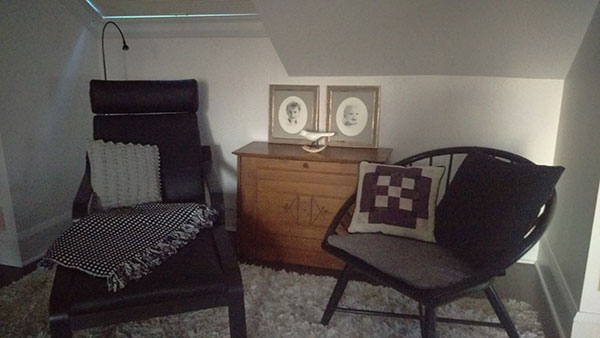 My writing studio is a place set apart; a space separate from the phone calls, doorbells, dog barks, dirty dishes, clean laundry in need of folding, meals in need of making, and all the rest of the many ins, outs, and interruptions of daily living.
My studio is part of a former attic on the third floor of our brick home in south Minneapolis, built in 1921. We first renovated the space in 1994, shortly after our blended family moved in, and again in 2012 when the four children were grown.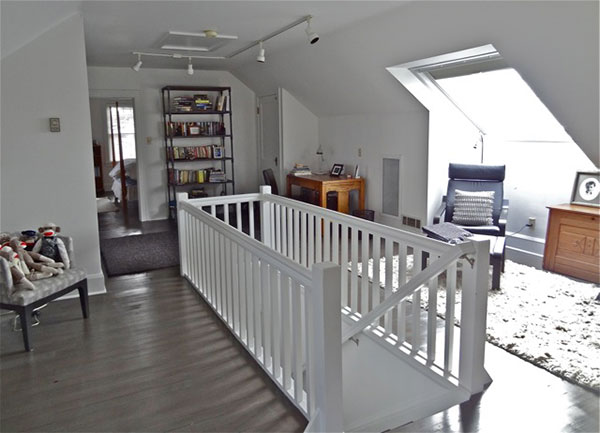 Steep, narrow wooden steps ascend to a loft-style space where the original red pine floors have been stripped, sanded, and washed with gray stain. The walls are white, its furniture a collection of new mixed with old. The rugs are hand-loomed, woolly and warm on my usually bare feet. A skylight lets in light from the west during the day and city-dulled starlight at night.
There are two bookshelves. One is a hand-me-down from my daughters' great-great-aunt on their father's side, filled with 35 novels and journals written by my favorite author, L. M. Montgomery. The other bookshelf, industrial-modern in style, houses a collection of books for young readers. Many of the books are first edition, signed by local children's book authors and illustrators.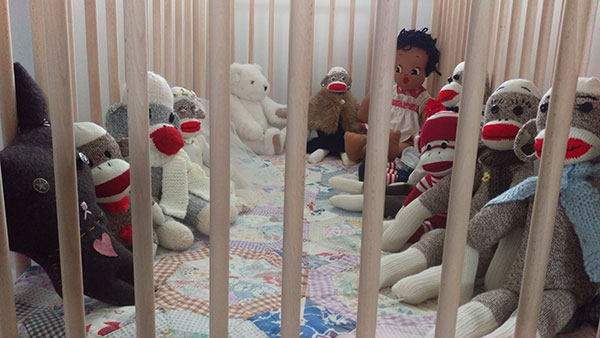 A baby crib from Ikea, where my granddaughter Ofelia sleeps when she comes to visit, is a recent addition. Sock monkeys, rag dolls, and stuffed toys seated on an heirloom quilt fill the crib until she returns.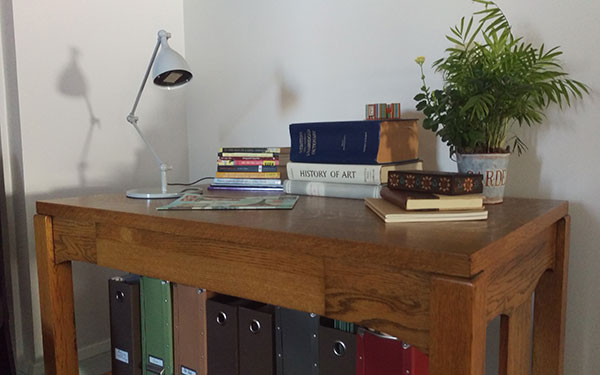 I use an antique oak library table as my desk. The other desk in the room is a child's early 19th century roll top desk where a brown kitten and puppy, made of vintage paper, are displayed. Scattered about are numerous posters, photos, mementos, and artifacts from which I draw inspiration.
Often seen on the top of my desk is a copy of From Where You Dream, a book about the art of writing fiction by Pulitzer-prize winning author Robert Olen Butler.
My writing studio is such a—may I say, sacred?—space.
A place from where I dream.