It seemed only fair that Sir Rudyard S. Monkey should accompany me to the 43rd Annual Society of Children's Book Writers and Illustrators (SCBWI) summer conference held August 1 – 4 in Los Angeles. In The Secrets of Eastcliff-by-the-Sea, Throckmorton tells the reader that his cousin, Sir Rudyard, is "considered the smartest in the long line of sock monkeys that Great-Grandmama Easterling had made."
In my imagination, Sir Rudyard is a lifelong learner, a connoisseur of art,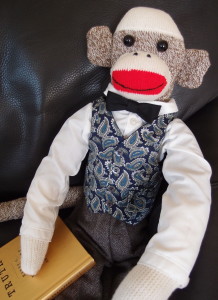 music, and literature. He loves Vincent van Gogh's Starry Night, Mahler's 4th Symphony, and The Scarlet Letter by Nathaniel Hawthorne. Perhaps "Stopping by the Woods on a Snowy Evening" by Robert Frost is one of his favorite poems:
The woods are lovely, dark and deep,
But I have promises to keep,
And miles to go before I sleep.
Miles to go before I sleep . . . a fitting image for my writer's journey.
At SCBWI, I was reminded that I still have so much to learn about the art and craft of writing narrative fiction for young readers. And at the moment, the act of starting a new story – which I vowed to do after I returned from Los Angeles – feels like stepping once again into a lovely but dark, deep and scary place.
In the conference finale, author Judy Blume spoke about the need for courage, and the struggles she's personally facing as she tries to revise her latest book. She reminded authors that no matter how many highly successful, published books one writes, "…it doesn't get any easier." She ended her remarks by emphatically recommitting herself to her work: "Yes. Yes. I'm going to do it!"
Over the years, I've learned that keeping promises that I make to myself is often much harder than keeping the promises that I've made to others.
But now, inspired by the authors, editors, agents, and publishers who spoke at the conference, I've made thirteen promises to myself as I step forward to write a new book. Following each promise is the SCBWI presenter or presenters to whom I give credit for sparking the idea.
"Yes. Yes!" I echo Judy Blume's words. "I'm going to . . .
Embrace my readers. I will hold close the vision of a child's tender heart, dangerous imagination, and curious, sometimes confused mind as I write. (Meg Rosoff)
Treasure my faults. I will face the difficult parts of myself and challenge my characters do the same. (Meg Rosoff)
Be authentic. Because of who I am and what I bring to it, I will tell a unique and intriguing story that comes from a deeply personal place and in a way that has never been expressed before. (Editors Panel)
Break the rules. I will re-learn the rules of writing fiction for children and young adults and then look for fresh and original ways to break them. (Editors Panel)
Create a cinematic experience. I will create sensory-rich scenes that either ask a question, or answer it as my tension-filled plot unfolds. (Jay Asher/Stephen Chbosky)
Brainstorm. I will discard my first idea for a scene, then my second, third, and even fourth or fifth, searching for the twists and turns of plot points that are least expected. (Jay Asher/Stephen Chbosky)
Experiment. I will write the first 10,000 words of my story, file this draft in my 'outtakes' folder, and start over. And, after that, I'll start all over again. (Maggie Stiefvater)
Trust. I will trust that my subconscious knows the story that I'm trying to tell. (Maggie Stiefvater)
Let go. I won't allow my author's hand to push my characters around. (Erin Murphy)
Play. Once the "heavy lifting" of storytelling is over, I will consider the editing and revision process the child-like equivalent of "play". (Linda Sue Park)
Surprise myself. I will feel my way through my story, one page at a time, not knowing what happens on the next page. (Sharon Flake)
Create distinctive characters. I will avoid archetypes, crafting characters who reveal many moments of contradiction. (Linda Pratt)
Be grateful and encourage others. I will be grateful for the many opportunities that I've had to stand on the shoulders of countless writers of children's literature who came before me; and I will do my best to do the same for others. And in these days leading up to the release of my latest book, I'm particularly grateful for Andrea Welch, my fun and fabulous editor at Beach Lane Books whom I met for the first time face-to-face at SCBWI, and for my amazing agent, Linda Pratt of Wernick and Pratt, who enjoys a breakfast with sock monkeys just as much as I do!