When I wrote The Secrets of Eastcliff-by-the-Sea, I often thought of my own sock monkey. There are many sock monkeys in the book, of course, so I asked my friend Millie Dosh to sew more monkeys for me. I have quite a group. Some nights I could swear they're having a party.
Are you inspired by my sock monkeys and Cece Bell's (link to prior week's blog article) to make your own? Here are two books of patterns that will help you.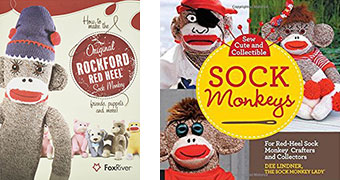 How to Make the Original Rockford Red Heel Sock Monkey, Friends, Puppets and More! from Fox River. This book has ideas not only for sock monkeys but also for a sock pig, sock dachshund, sock raccoon, and another 46 patterns!
Sew Cute and Collectible Sock Monkeys: For Red-Heel Sock Monkey Crafters and Collectors by Dee Lindner (Creative Publishing International, 2015) is another book that includes patterns, ideas for dressing your sock monkey, and ways to give your sock monkey just the facial expressions you'd like.
Have fun with your imagination!