I have invited several of my writing colleagues to share an essay in answer to this prompt: "What lingers in your memory about a specific place, perhaps a recent vacation or a place you've lived? How did this place, or your travels, influence your creative process?" Author Stephanie Watson shares a special retreat for thinking and writing.
I am the sole parent of a seven-year-old girl who is the most spirited, magical person I have ever met. She is also the noisiest person I've ever met, and has the most questions and observations. Know when peanuts were invented? 1871! When a color is kind of pink and kind of purple and kind of fuchsia, you can just call it Patricia. Your armpits smell like burnt Christmas cookies. Can you lick my elbow?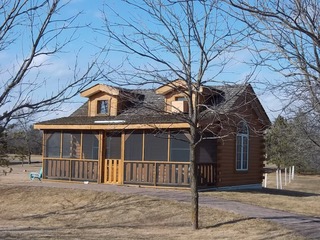 The questions and observations never end. I don't want them to end, but I do need a break sometimes. I need space to hear myself think, and to let my own questions and observations drift to the surface. This is true in general, but especially true when we're talking about writing. When a fiction project needs a sustained burst of attention and time, I call the nuns at the College of St. Benedict in St. Joseph, Minnesota, and I reserve the hermitage house.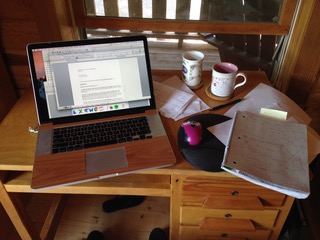 The tiny log cabin sits on the edge of campus, near the cornfield and the long tunnel of trees leading to the woods. The house is just big enough for a twin-sized bed, a small desk, a soft chair for reading and a hard chair for writing. There's also a small bathroom and a mini kitchen. The scale makes everything feel intensely simple. In the simplicity and quiet, I can easily hear myself think. And after thoughts have the chance to rise, they can then settle, like the contents of a snow globe. I spend a lot of time at the hermitage not thinking. Just slicing potatoes. Oiling up a pan of asparagus. Memorizing the knots in the exposed rafter beams. Taking another hot shower. I sometimes take three hot showers in a day, just because I can.
When I wake up each morning, I make a giant pot of green tea, I write until I'm tired, take a nap, wake up, drink more tea, write again. The rhythm is my own, not syncopated by anyone else. When I've spent my creative courage for the day, I walk down the fairytale lane of trees, into the woods. I don't intentionally think of my story but it might reveal itself to me on its own terms, like a wild rabbit. I hold very still and feel grateful for any glimpse I receive. At night, I cook and listen to audiobooks, nourishing myself with both good food and good words.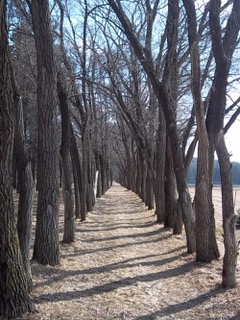 In the tiny house, rain on the roof is louder than at home, and night is darker. The flat fields reveal sunrises and moonrises I never see in Minneapolis. Here, I feel very alive and I sense magic. Sometimes I write good things and sometimes I write less-than-good things. That's always the way it goes. I return to the Twin Cities and to my Rainbow Tornado feeling recharged and ready to reunite with the magic that awaits me at home. I'm ready to listen to observations such as: When the sun shines, it's the sun opening its mouth. Everybody has to go grocery shopping except zombies. Did you know that Frog and Toad are old people?
__________________
Stephanie Watson is the author of the middle-grade novels Elvis and Olive and Elvis and Olive: Super Detectives, both Junior Library Guild selections. Her picture books include Behold! A Baby (2016 MN Book Award finalist, illustrated by Joy Ang), The Wee Hours (illustrated by Mary GrandPré), and the forthcoming Best Friends in the Universe (illustrated by LeUyen Pham, 2018). Stephanie enjoys teaching writing workshops to kids and adults at schools, libraries, and the Loft Literary Center in Minneapolis. Learn more at stephanie-watson.com.