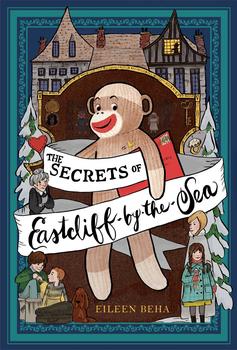 Where do writers draw their inspiration? From many books, articles, trips, conversations, and recipes!
In Chapter 23 of The Secrets of Eastcliff-by-the-Sea, "Tea Party," Annaliese hosts a tea party for her three cousins and their sock monkeys. Nora, Nadine, and Nell Ann have a surprise for Annaliese … their mother gave their sock monkeys away! So how will the cousins be able to attend Great-Grandmama Easterling's birthday party? Only the sock monkeys received invitations. 
It was a lovely tea party that Annaliese and Miss Pine set out for their guests. Throckmorton sat at the sock monkeys' table, covered with a lace tablecloth and Throckmorton's favorite doll dishes, "the ones with daffodils and aqua rabbits."
"On a larger table, also set for four, a three-tier silver serving dish held dainty petit fours and finger sandwiches cut into hearts, diamonds, clubs, and spades. Devonshire cream, lemon curd, and rosy-red jam accompanied a basket of freshly baked currant scones."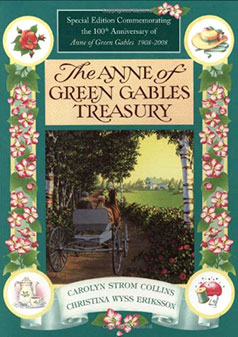 One of the sources that provided inspiration for this tea party is The Anne of Green Gables Treasury (Carolyn Strom Collins, Christina Wyss Eriksson, Ruth Macdonald and David Macdonald, Penguin Books Canada Limited, 1991,) Chapter Five, "Tea Time."
"The teas that are described most fully in the Anne books are of the special-occasion variety that consisted of treats such as sandwiches, fresh or preserved fruits, cheese, breads, cookies, cakes, pies, tarts, and other desserts. "A splendid tea," as Anne described one of her Sunday School picnics, would have included those kinds of dishes as well as more substantial fare—meats, salads and vegetables. Extra-special treats such as ice cream assured the success of such occasions."
The authors go on to say:
"A variety of tiny sandwiches served with the first cup of tea is a fitting beginning for any tea party. Finely textured white bread is most often used for tea sandwiches, but you can also choose whole wheat or light rye or a combination of breads. Slice the bread as thinly as you can—about 1/4 inch slices are ideal."
Here's a recipe for finger sandwiches from this cherished book.
_____________________________________
CHICKEN SALAD SANDWICHES
From: The Anne of Green Gables Treasury
1 cup finely chopped cooked chicken
1/4 cup finely chopped celery
1 hard-boiled egg, peeled and finely chopped
1 Tbsp finely chopped sweet pickle or sweet pickle relish
1 tsp finely chopped green onion
2 to 3 Tbsp mayonnaise
Salt and pepper to taste
6 thin slices bread
Butter, at room temperature
In a bowl, mix together the chicken, celery, egg, pickle, and green onions. Stir in the mayonnaise until you have a nice moist mixture. Add salt and pepper to taste. Keep the mixture in the refrigerator, covered, until you are ready ot make the sandwiches.
Butter each slice of bread on one side. Spread the filling on three of the buttered slices and top with the remaining slice of bread. Trim the crusts off the sandwiches and cut each sandwich into shapes.
Makes 3 whole sandwiches