I have invited several of my writing colleagues to share an essay in answer to this prompt: "What lingers in your memory about a specific place, perhaps a recent vacation or a place you've lived? How did this place, or your travels, influence your creative process?" Author Janet Graber, who has lived in many places throughout the world, shares one of her favorites, her hometown, Newcastle upon Tyne.
When I was a child my passion was exploring the back-alleys and narrow passageways of my native city. One particular long-ago day when thunder rumbled across the river and rain clouds hovered over the coal barges in a thick gray shroud, I sheltered beneath the smut-grimed arches of the ancient castle walls. Rain splashed over the parapets and sluiced into the gutters. And through the gloom I spied a shabby little shop gouged out of the soot-stained stones. A weathered sign creaked in the wind. Barlow's Bygones.
The door was warped and a rusty bell clanked dejectedly. Inside smelled of damp mold and the powdered bones of long-dead beasties. An old man stood in the shadows dressed in a long duster coat. Rimless spectacles perched on a nose almost lost under bushy eyebrows, and curls of gray hair sprouted from protruding ears.
 "Benjamin Barlow at your service." His voice rasped. "Look around, bonnie lassie."
Surrounding him in piles were musty books, rolled up maps, a muddle of old medals and badges, baskets of buttons. Even a rusty dagger festooned with sticky spider webs. Thrilled, I searched through the treasure trove until I discovered a wolf head's carving, two inches long with a neat hole chiseled through the creature's neck. Despite being whittled from bone it lay warm as a new-laid egg in the palm of my hand. I ached to possess it. Who had made it? Why? For what purpose?
"How much?" I whispered.
"Whatever you have," wheezed the old man.
I emptied my pockets onto his worn wooden counter. A half crown. Two sixpences. One threepenny bit. Mr. Barlow smiled and hummed as he wrapped my precious prize in brown paper and tied it with string. "For you, lass. Weaver of dreams."
__________________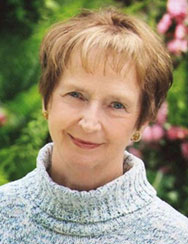 Janet Graber grew up by the sea in northern England, a magical place of fairy-tale castles, golden beaches, desolate moors, gray stone walls, and woodlands ablaze with bluebells and snowdrops. Her vivid childhood memories include imaginary games on the ancient Roman Wall, burying treasure on Holy Island, and summer holidays at Granny Drummond's cottage in Kirk Yetholm. Although she has lived in many places all over the world since, her heart remains firmly in the land of her birth. Visit Janet's website.