It was June, 1974, and the lupines, I remember, were in bloom.
Six months earlier, on the way home from a party near dawn, I'd totaled a white Volkswagen Beetle. Somersaulting through the convertible's rag-top roof, twenty-three years of life flashed before my eyes; and I didn't like what I saw. Too late, I thought. When my body stops rolling, I'll be dead.
Twenty-two days after the accident, with every inch of my skin blotted with greenish-yellow bruises, I married a man whom I'd met at that party.
Later, when he asked me where I wanted to go on our honeymoon, I answered, "Prince Edward Island—because I want to see the island where Anne of Green Gables took place."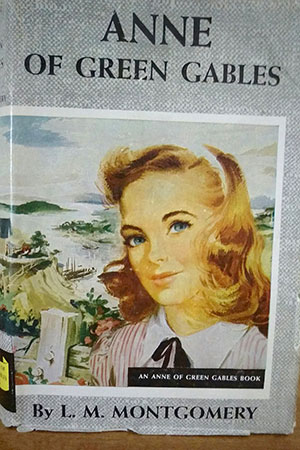 The book's protagonist was my childhood heroine. Anne Shirley was spunky and made mistakes. I envied her untamed imagination and indomitable spirit. Growing up in a small, red brick house where talking about feelings was forbidden, Anne was my true kindred spirit.
We honeymooners headed north from Wisconsin in a brown Ford van to Sault Ste. Marie, camped near Sudbury, showered in Quebec, and at Cape Tormentine boarded the car ferry to cross the Northumberland Strait.
L. M. Montgomery's descriptions did not disappoint. The gables were green, the soil was red, the gulf waters cobalt beneath a periwinkle sky. We boiled lobsters in a pot over a campfire near the windswept dunes, and I believed with Anne Shirley's fervor that our rash marriage would last forever.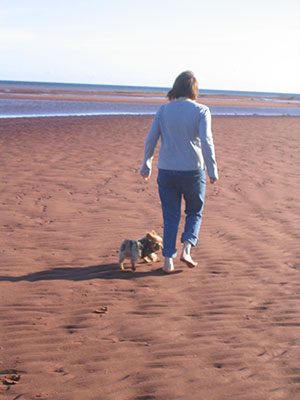 As early as 1897, a journalist with Prince Edward Island Illustrated wrote: "This is the place for weary men and women to come to build up worn-out tissue, to rest the mind, to banish weariness." So ten years later, divorced, with two young daughters in tow, I returned to the Island, worn out and weary. We flew from Halifax into Charlottetown by prop plane during a thunderstorm. I can still see the fear in my children's eyes and the pink and lavender packs strapped to their backs.
I returned to PEI almost every summer after that. Seventeen grueling years as a public school administrator had taken its toll on my health and spirit. Ultimately, Chronic Fatigue Immune Dysfunction (CFS) and companion depression trapped me in its insidious net.
One cloudless morning in the summer of 1999, I was sitting on a barn red, double-sided, wooden bench on the porch of a run-down cottage that my second husband and I had purchased on Argyle Shore. I could see the coast of Nova Scotia and a peppermint-striped lighthouse guarding its shore. A pair of seals, as black and shiny as a fisherman's slicker, swam in unison through the gentle surf and shallow waters.
It was the time between tides.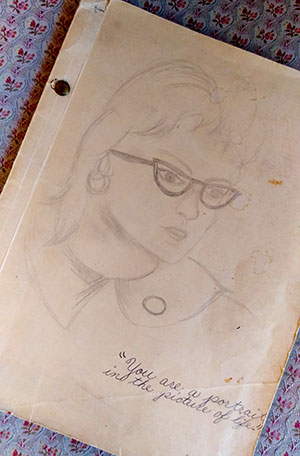 I waited for my nearest neighbor—a red fox—to steal past for his morning drink from a fresh water stream that slices the bank on its way to the sea, and I thought about the musty-smelling sixth-grade autobiography that I'd recently found buried in a box labeled "Eileen's Things" in my mother's basement.
My brother had sketched my face on the cover, complete with pointy black plastic glasses. Below my penciled likeness, I'd written, "You are a Portrait in the Picture of Life." On the back page, my teacher Mrs. Ross had penned in red ink: "This is excellent from beginning to end. I hope you will always keep your zest for living and learning."
Re-reading my eager, honest, child-like words I remembered how my mother had hovered during the biography's creation—reminding me to check my grammar, correct my punctuation. "Use your best penmanship," she admonished. "If you make a mistake, don't cross it out, start over."
Calmed by the sea, I could hear her voice. I could feel her pride. By this time Alzheimer's disease had destroyed her mind, silenced her voice. I wondered, "Do I still have time?"
On Prince Edward Island red clay soil brings forth lavender lupines that line ditches along dusty country roads. Rose-red fireweed creeps between prolific rows of new potatoes. "The lowest ebb," writes Henry Wadsworth Longfellow, "is the turn of the tide."
Within the next year I would enroll in the MFA Program in Creative Writing at St. Paul's Hamline University. Almost 30 years after my first visit to PEI, I was assigned to write 20 pages of creative prose that thematically reflected Canadian literature. I knew my story would take place on Prince Edward Island.
I asked myself, "What if a Yorkshire terrier from Manhattan washed up on the south shore of PEI, tangled in a lobster trap, and met that red fox? What themes could I capture in that story?"
My first published novel for young readers, Tango: The Tale of an Island Dog, was my response.